Part 3: U.S. & Iran Reaction to Rushdie Attack
The United States condemned the attack on novelist Salman Rushdie while Iran said that he brought it upon himself.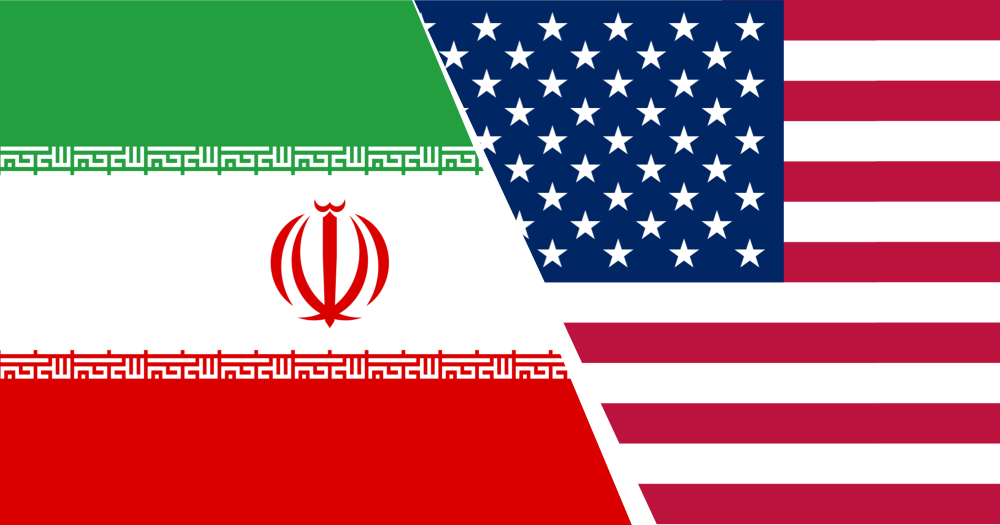 President Joe Biden condemned the "vicious attack" on Salman Rushdie and lauded the novelist for his "refusal to be intimidated or silenced" for more than three decades. Secretary of State Antony Blinken specifically criticized Iran for having "incited violence against Rushdie for generations." He stopped short of implicating Tehran in the August 12 stabbing perpetrated by Hadi Matar.
Iran denied involvement. The Foreign Ministry instead implied that Rushdie had brought the attack on himself by insulting "the holiness of Islam." On August 15, Foreign Ministry Spokesperson Nasser Kanaani said, "We don't consider anyone deserving reproach, blame or even condemnation, except for (Rushdie) himself and his supporters."
Hardline Iranian newspapers, however, praised the attack. Kayhan, a hard-line newspaper who editor is appointed by Khamenei, lauded the stabbing within hours. "A thousand bravos . . . to the brave and dutiful person who attacked the apostate and evil Salman Rushdie in New York," read an article published online. A frontpage headline on August 14 declared that former President Donald Trump and former Secretary of State Mike Pompeo "are next" in line for "divine vengeance." The following are reactions from the United States and Iran. 
U.S. Reaction
President Joe Biden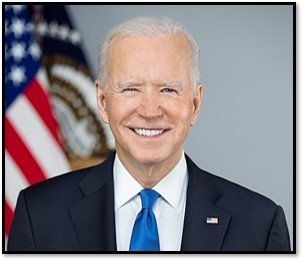 Statement on Aug. 13, 2022: "Jill and I were shocked and saddened to learn of the vicious attack on Salman Rushdie yesterday in New York. We, together with all Americans and people around the world, are praying for his health and recovery. I am grateful to the first responders and the brave individuals who jumped into action to render aid to Rushdie and subdue the attacker.
"Salman Rushdie—with his insight into humanity, with his unmatched sense for story, with his refusal to be intimidated or silenced—stands for essential, universal ideals. Truth. Courage. Resilience. The ability to share ideas without fear. These are the building blocks of any free and open society. And today, we reaffirm our commitment to those deeply American values in solidarity with Rushdie and all those who stand for freedom of expression."
Secretary of State Antony Blinken
Statement on Aug. 14, 2022: "We join those across the country and around the world who are keeping Salman Rushdie in our thoughts in the aftermath of this heinous attack. More than a literary giant, Rushdie has consistently stood up for the universal rights of freedom of expression​, freedom of religion or belief, and freedom of the press. While law enforcement officials continue to investigate the attack, I am reminded of the pernicious forces that seek to undermine these rights, including through hate speech and incitement to violence
"Specifically, Iranian state institutions have incited violence against Rushdie for generations, and state-affiliated media recently gloated about the attempt on his life.  This is despicable.
"The United States and partners will not waver in our determination to stand up to these threats, using every appropriate tool at our disposal. The strength of Rushdie — and that of all of those around the world who have endured such threats — steels our resolve and underscores the imperative of standing united as an international community against those who would challenge these universal rights."
National Security Advisor Jake Sullivan
Statement on Aug. 12, 2022: "Today, the country and the world witnessed a reprehensible attack against the writer Salman Rushdie.  This act of violence is appalling.  All of us in the Biden-Harris Administration are praying for his speedy recovery.  We are thankful to good citizens and first responders for helping Mr. Rushdie so quickly after the attack and to law enforcement for its swift and effective work, which is ongoing."
Iranian Reaction
Foreign Ministry Spokesperson Nasser Kanaani
Remarks on Aug. 15, 2022: "Regarding the attack against Salman Rushdie in America, we don't consider anyone deserving reproach, blame or even condemnation, except for (Rushdie) himself and his supporters."
"In this regard, no one can blame the Islamic Republic of Iran. We believe that the insults made and the support he received was an insult against followers of all religions."
"We did not see anything about the person who did this action, other than what we heard from the American media."
Member of Parliament Javad Karimi Ghodoosi
Remarks on Aug. 15, 2022: "The Islamic Republic doesn't need to send the IRGC to the heart of the enemy. There are zealots with fire power aware of our positions. If they get an opportunity, they'll take revenge on the likes of Trump, Pompeo, etc."  
Iranian Media Reaction
Jam-e Jam (conservative)
Headline: "Satan's Eye Has Been Blinded" (August 14)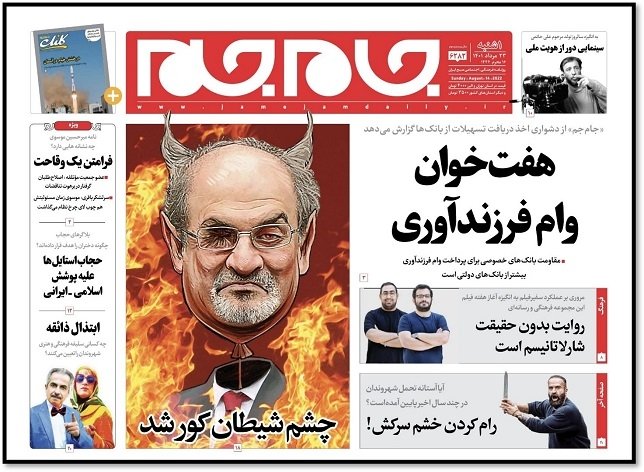 Khorasan (centrist)
Headline: "The Devil on the Way to Hell" (August 13)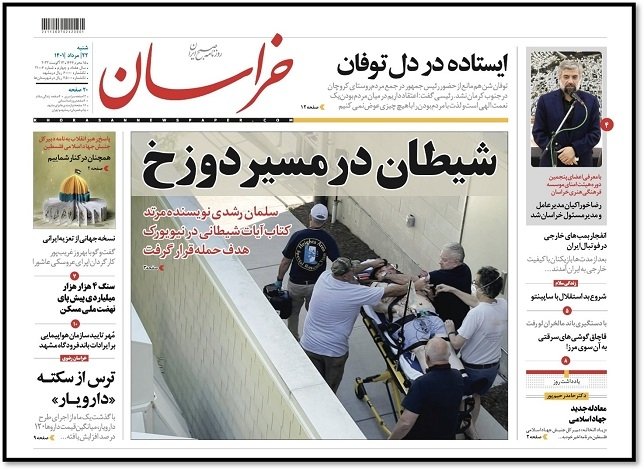 Kayhan (hardline) 
Headline: "Divine Vengeance Befell Salman Rushdie, Trump and Pompeo are Next"
(August 14)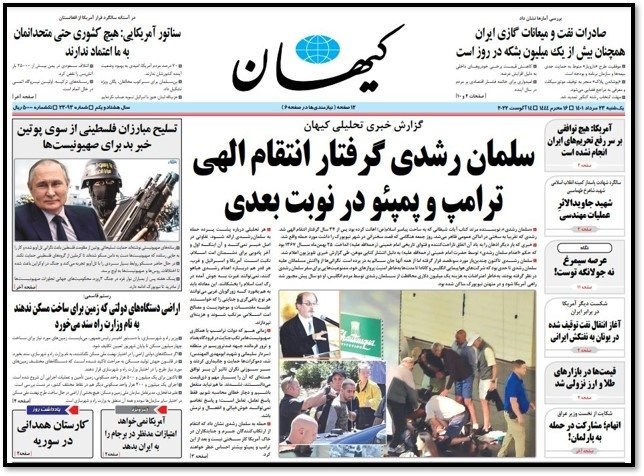 Related Program
The Islamists
"The Islamists" is a book and website on the origins, evolution, and positions of Islamist movements in the Middle East. The movements are redefining the order and borders in the world's most volatile region. Yet they have diverse goals and different constituencies. Sometimes they are even rivals. Read more